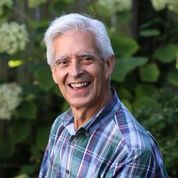 Joe Hammer
Music Director
Joe entered Ball State University, in Muncie, Indiana, as an organ major, graduating with a bachelor's in communications and music. Upon completion of his master's degree, also from Ball State and immediately after earning his undergraduate degree, Joe worked in the not-for-profit sector in Indianapolis. He moved to New York City during the late '80s, working primarily in non-profit special event fund raising.
He and his family relocated from New York City to Indianapolis in 2008, where he continued his non-profit fund raising work with a museum and an educational foundation. In 2015, he joined the staff of the Cincinnati Symphony Orchestra; he retired from full-time fund raising in 2016.
Throughout his fundraising career, Joe continued to play the organ and sing in a number of choirs, including at the Riverside Church and Church of the Holy Trinity Episcopal in New York, St. John's Episcopal Church, Forest Hills, Queens, the First Presbyterian Church as organist in Sag Harbor, New York, and as Director of Music and Organist for the First Congregational Church (UCC) in Exeter, New Hampshire. In Indianapolis, he served as Director of Music and Organist for St. Matthew's Episcopal Church and as interim music director and organist for St. Louis de Montfort Catholic Church.
Joe comes to St. Paul's from St. Luke's Episcopal Church in Granville, Ohio (home of Denison University), where he has served as organist. Joe and his partner, John Howish, have two adult daughters, both of whom reside in Indianapolis. John is an RN at St. Vincent's Hospital, Indianapolis. John and the girls look forward to visiting Nantucket frequently.