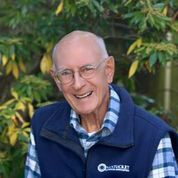 Curtis Barnes
Verger and Liturgical Coordinator
Curtis has lived on Nantucket full time since 1980 when he and is late wife Joan bought a small guest house as their retirement "project." Since that time they have developed four real estate-related businesses on the Island: Nantucket Accommodations, Nantucket Vacation Rentals, Nantucket Real Estate Company (all of which have been sold), and Nantucket Island Homes, Inc., a small custom construction company.
A native of Philadelphia, Curtis attended Amherst College and graduated from the University of Rochester with a Bachelor of Science in history and political science. He later earned a master's degree in history from Elmira College. He worked from 1952 to 1962 as a reporter/photographer for the Gannett Co., in Rochester, New York. While on military leave of absence from 1956 to 1958, he served as a Counterintelligence Agent in the United States Army and was stationed at CIC Headquarters in Baltimore, Maryland. Moving into academic administration in 1962, he worked at Clarkson College, Elmira College, Syracuse University, the University of Pennsylvania, and Tufts University, serving in public relations/communications positions, and as adjunct faculty member.
As a volunteer at St Paul's, Curtis has served as liturgical assistant to five rectors. He attended Episcopal Divinity School in Cambridge, Massachusetts, from 1988 to 1990, and is licensed by the Diocese of Massachusetts as a worship leader, eucharistic minister, and eucharistic visitor. At St. Paul's Church, he assists the clergy and staff in coordinating the liturgical ministries of our volunteers, including ushers, lectors, chalice bearers, acolytes, and those who serve at the altar during the liturgy. He has served two full terms on the St. Paul's Vestry and was the Nantucket Town Crier for 28 years, receiving a Governor's Citation from Governor Deval Patrick for this service in 2008.