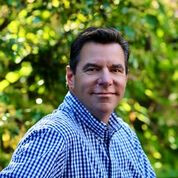 Peter Greenhalgh
Clerk
A descendant of Nantucket Whaling Captain Edmund Gardner, Peter has lived on Nantucket since 1991 and is blessed to be married to Stacey Whittier Stuart. A graduate of Quinnipiac University, he has been the Artists Association's Cecelia Joyce & Seward Johnson gallery manager for the past decade, where he is responsible for the sales and public relations of the gallery. A cradle Episcopalian, Peter was the first student representative on the Vestry of his childhood church, Church of our Redeemer in Lexington, MA.
Taught by his parents the importance of giving back, he has been an active member of St. Paul's church for over twenty-five years, having served two terms on earlier Vestry's - some as clerk - and was honored to attend St. Paul's first mission trip to Guatemala. He has been a board member on a number of the island's cultural organizations, and for nine years was a member of the Nantucket Golf Club Scholarship Review committee. Peter is the Chaplain of the local Masonic Lodge, and looks forward to joining the Vestry and working more closely with everyone at St. Paul's.
When not working, he enjoys visiting his family cottage "in America", the natural beauty & history of the island, working in his Polpis Harbor Arbor Gardens, and entertaining friends and family with his wife.